The Volume Discount Coupons extension for WooCommerce provides automatic discounts and coupons based on the quantities of products in the cart.
The following videos provide a tour around volume discount coupons in action on the front end and a view on their settings on the administrative back end.
In the first video we get a customer's view on Volume Discount Coupons in action:
This second clip shows the extended Volume Discount coupon settings of the coupons involved:
Introduction
The extension is very easy to use and makes an approach that is simple to understand. It extends the settings for coupons with intuitive options, it does not rely on complicated rules.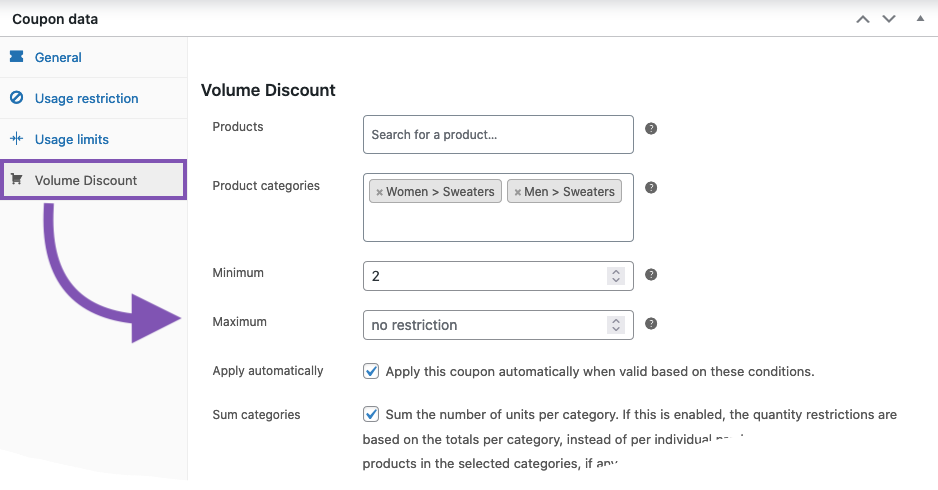 Coupons that provide a volume discount are a great way of increasing sales when customers are made aware of those discounts. The extension makes that easy and shows customers what discounts can be used on which products. It allows to display discounts automatically for eligible products on shop pages and also on the product pages. The discount information can also be displayed anywhere else when deemed adequate.
Convenient options allow to determine whether coupon information for eligible products is shown on product pages …
… and of course also for eligible products displayed on Shop pages:
Documentation
The detailed options that are available are discussed here on the following documentation pages:
Feature Hightlights and Benefits
Thanks to the extension's additional coupon features, the spectrum of possible coupon conditions based on quantities is very flexible and vast. Yet because it keeps things simple, there are no complex rules or difficult user interfaces to handle. Here is a selection of possible cases that are covered:
Allows to restrict coupon usage based on minimum and/or maximum quantity in the cart
Can apply discount coupons automatically when quantity and other criteria are met
Lets customers also apply coupons manually for coupons that should not be applied automatically but still be limited to quantity criteria
Volume discounts can be restricted based on specific products or product categories
Can automatically show discount information for eligible products on shop pages and product pages
Allows to show additional customized information for eligible products and when discounts are applied
Includes shortcodes that render pretty coupons wherever needed
Cross-product and cross-category coupons can grant discounts on products based on the quantities of other products in the cart